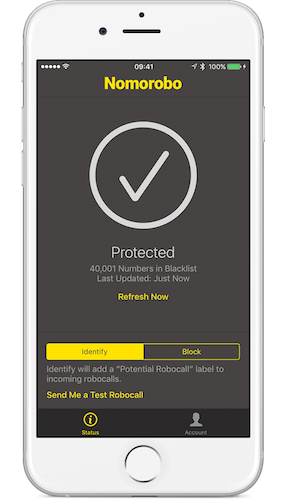 Guest Post by Terry Austin of ielectrons.com
Hi there Allison and my fellow NosillaCastaways. Terry here…
Boy do I ever have a problem to be solved today!
SPAM calls on my iPhone. I HATE those and some days it seems like they come in every ten or twenty minutes.
The latest trick is a random phone number from a town near you, or at least in your own state.
Enter Nomorobo. Some of you know that this service has been around for a while for home phones. In fact, our own Steve Sheridan did a review of Nomorobo for their landline service back in 2015. I'm sure Allison has that link for the show notes.
I signed up a while back to have them send me notice when it arrived on iOS. Because I get so many annoying calls I look fairly often for call blocking apps and I actually found the app in the app store a day or two before, but this week I got the email that the iPhone app is available. YAY, NoMoRoBo is finally here for iPhone!
So, how does this thing work?
First (obviously) you install the app. The app itself is free… more later on potential costs.
Second, you have to give the app permission to screen your calls. To do this go to SETTINGS/PHONE/CALL BLOCKING & IDENTIFICATION and flip the switch to ON to give Nomorobo permission to screen your calls.
That's it… Now Nomorobo is screening all incoming calls. It will catch the robospam calls coming in.
I've used the app for almost a week now and I've gone from having at least a dozen of these annoying calls each day to pretty much zero.
There are two modes that Nomorobo can run in and you get to decide.
By default it's in what I would call "screening mode". Nomorobo calls this mode "IDENTIFY". In this mode you will see and hear a call come in but it will be identified on screen as a Nomorobo Robocaller. You can then make all your normal call choices, ignore it, decline to send it to voicemail, or answer – but why on earth would you answer?
The other mode (my personal favorite) is BLOCK. Blocking sends incoming robocalls straight to voicemail and you never have to know the call came in. If the robocall leaves a voicemail you will see it in your voicemails. You can, of course, choose to delete those.
There's one cool feature I have yet to mention. You can open the app and have it send you a Test Robocall. I would suggest that you do that at least twice. First, leave the mode set to IDENTIFY then press "send me a test call". The call comes in, your screen shows it as a robocaller and you can handle any way you wish. Then switch to BLOCK and have another call sent… the call will go to voicemail and you can go listen to the voicemail after it finishes recording.
Nomorobo is not a free service. They do however give you a (generous) free month to try out the service.
Should you choose to keep the service active after your free month, you have two in-app purchase options. You can pay $1.99/month, or you can pay $19.99 for a year of protection.
Besides this review I've also done a tutorial video and a blog post on my own site. I'll make sure Allison has the links for those in the show notes.
All in all I am very pleased with Nomorobo on my iPhone. And since they're giving you a month free to decide whether you like it or not… what have you got to lose?